Google
As with the Divi Theme's Map modules, a Google Cloud Platform account is needed to obtain a Google Map Platform Key. Once that is done, including establishing a Google Project, several Google Map APIs will need to be authorized in that Project.  The minimum you'll want to authorize are:
Maps Javascript API
Geocoding API
Maps Embed API
The Javascript API is primary for the drawing of the map designed in the module.  The Geocoding API is necessary when building the individual Listings particularly when you have an address but not the coordinates and vice/versa.  The Maps Embed API is used in the Singular Listing when opting to draw a map.  The latter is only necessary if you use the included template.
Licensing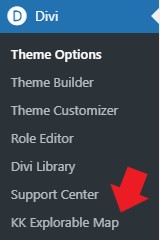 Locate the KK Explorable Map menu option under the Divi collection.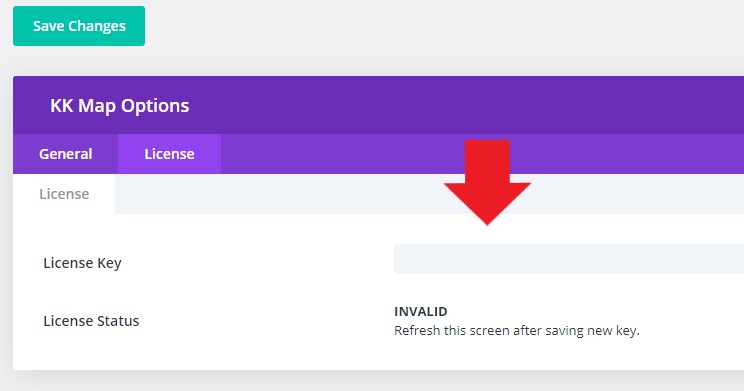 For this step, you'll need the License Key you setup in the Purchase History area of your Marketplace Profile.  In that setup, you should have authorized this site's domain.  Enter the Key and save changes.  Once saved, check the status to ensure the Key is VALID. You may need to refresh the screen.
Once the Key has been validated, you will find the the KK Explorable Map module in the Fullwidth Module collection available with a Fullwidth Section element.
General Settings
These settings primarily deal with the election to use Ratings and/or the Singular Listing template included with this plugin.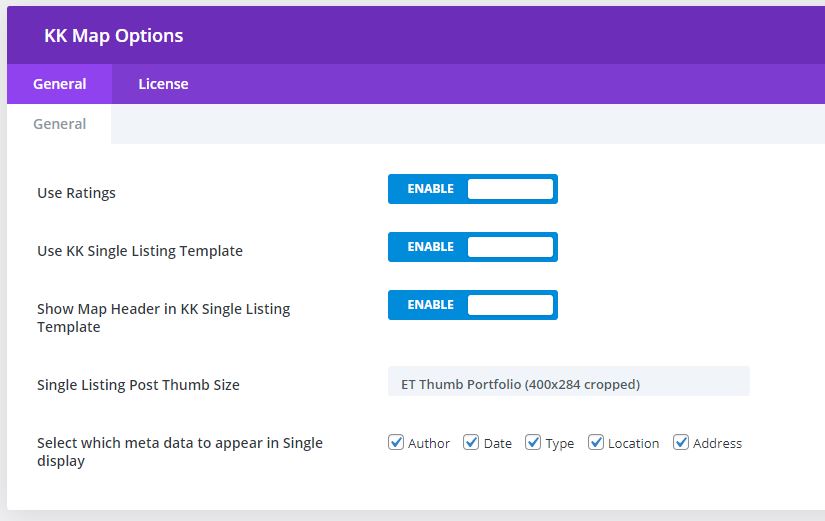 Use Ratings: As an integral part of Explorable, a ratings scale can be applied by the author of a Listing within WP Editor OR visitors can in Comments while viewing a Singular Listing. To disable this feature in the Singular Listing, select Disable. To enable Ratings in the map display, select the appropriate settings within the module.
Use KK Single Listing Template: KK Explorable provides a template to display Single Listings. To Disable this behavior, select Disable.  You may use the Theme Builder to produce a singular template or include one in a child theme (single-listing.php).  All options are suggested are optional. If the option is set within the module to include the "Read More" link, then WP will attempt to locate a suitable template.
Show Map Header in KK Single Listing Template: the singular template included in this plugin will normally show an embedded map at the top of the post showing the location point of the Listing. This control disables/enables this map. An example can be seen here.
Single Listing Post Thumb Size: If the KK Single Listing Template is enabled, you can select the size of the featured image that appears. These are taken from the thumbnails produced by the Divi Theme, the one thumbnail produced by this plugin and the various thumbnails created by WP. You may also select None.
Select which meta data to appear in Single display:  within the KK Single Listing Template, you may select which Post meta-data will appear.  See example at the link above.